Adding Your Real Estate Business on Facebook
For any business, a social media presence is vital. Facebook is one of the most popular social media platforms in existence with over a billion monthly active users. Having your business on Facebook is a must for real estate agents to compete in today's world.
Let's look at the options, pros and cons, of how to use a business page, as well as a personal profile on Facebook to help you better leverage this awesome platform for generating exposure and gaining new clients.
Facebook Business Page
Pages give businesses their own identity on Facebook separate from a personal profile. This allows businesses to tell their story and share new content with an audience.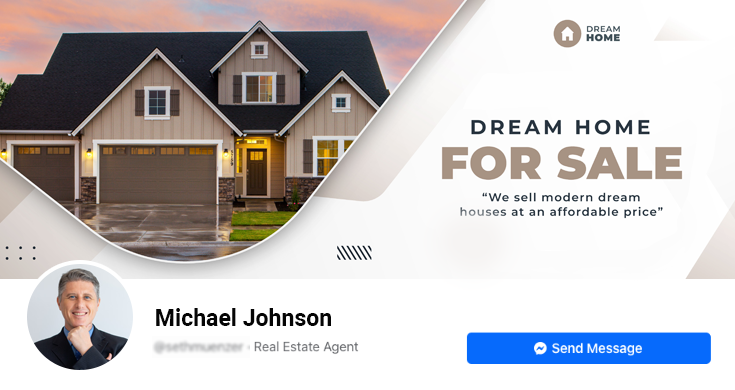 Pros
Gives you access to Facebook ads to promote your real estate business and generate leads for home buyers and sellers.
Keeps your personal life separated from the details of your business.
Facebook Analytics becomes available and can provide valuable insights.
Cons
It's hard work to maintain a business page.
Facebook has a strict ad policy that affects your ability to advertise.
To add your real estate business on Facebook, go to the "Pages" section in the left-hand column of Facebook. Click on 'Add a Page' and select 'Local Business or Place'. Make sure you include your city name when filling out this form. For example, Acme Realtors – Chicago IL
Next, click 'Create' and fill out the following fields according to what is most appropriate for your business: Name (example: Acme Realtor), Category (real estate agents) then Save Changes at the bottom right-hand corner.
This will now show up as a new listing under "pages," with an option to edit its posts from here. You can change anything about this page that you want, including its cover photo and any other information you would like to add.
The most important thing is that this page is connected with your personal Facebook profile so it can show up in the search box when someone looks for a real estate agent near them.
To set this connection up: go to "Settings," on the left-hand column of Facebook. Click "Link Other Accounts" at the bottom of this section then click "connect" next to 'pages'. Now type into the pop-up window where it reads "page name or ID" Acme Realtor Chicago IL (the one we created earlier) and select Add Page from the drop-down menu below that. You'll now see Acme.
Best Practices
Remember to be kind and helpful, as well as supportive of others.

You're here to help. Don't act exclusively in the interest of your business – be part of a community.

Preview your 'public' view, so you can see how everyone sees your pages and content.

Your personal profile connects to your business page. Make sure you understand how your profile connects.

Make sure your business page profile picture is of you and has a professional touch to it.

Share some moments as a realtor that makes you more personable as a real estate agent. It's okay and recommended to add details about being a real estate professional, kind of a 'behind the scenes' look.
Personal Profile
Facebook is a great way to reach out and connect with home sellers and buyers, but it can be difficult if you're not sure how. If you don't already have one as yourself, create a Facebook profile as yourself. Don't use your business name.
Using your business name and using a personal profile just for business violates Facebook's terms of service. So, you'll want to use your personal profile like normal but can use it to share info about real estate too. But be careful and proceed with caution.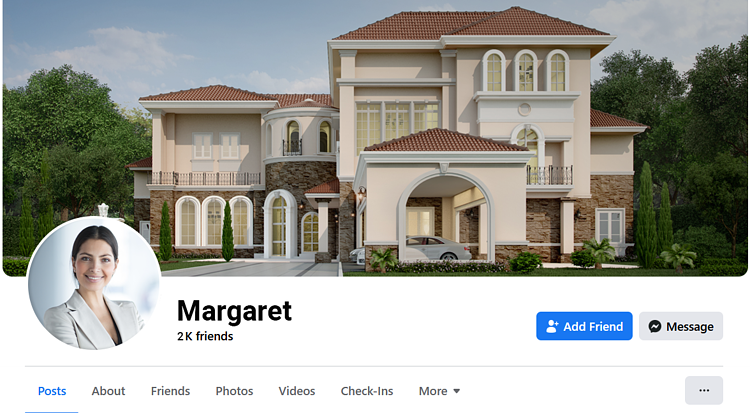 Pros
Friends and family can be a real asset in growing your real estate business.
Makes you more personable for your business.
Gives home buyers/sellers an easy way to contact you directly on Facebook.
Cons
If you use your personal profile too much for business, there is a risk that Facebook will consider it a violation of their terms of service and remove your account.
If your friends and family are not matching or similar to your target home buyers/sellers, it may not help much.
It's not very easy to scale and takes a lot of personal time.
Best Practices
Follow the golden rule. Be polite, thoughtful, professional, and treat others like you want to be treated.

Remember, it's a personal profile...too. Don't only post and interact with things related to real estate.

Be conscious of your privacy settings and what you post publicly versus privately on Facebook. When you post privately, only your Facebook 'Friends' can see the post. When you post publicly, anyone on Facebook can see your post.

Be active in relevant Facebook groups, and be a helpful member of the group. Be respectful to others, and don't post anything unprofessional.

Don't think about or act too much in the interest of your business.

Be an active member of the group, don't use it to promote yourself. You're building relationships. People will see that you're a real estate agent. When you build relationships of trust, they will come to you if/when they want to buy/sell a home.

Avoid joining too many Facebook groups. Just focus on being active in one or two.

Follow the rules of the group. Group moderators can quickly delete your posts and kick you out permanently for violating these guidelines.

When adding Facebook members to a group, only add people you know are interested in the topic.

If you're considering creating a Facebook group, think about what your goal is and why.
Public Figure Facebook Page
You don't have to be a celebrity or a politician to have a public figure Facebook page. In fact, this may be the best option as a realtor. A public figure Facebook page can be an invaluable tool for establishing yourself as a realtor on Facebook. This is especially valuable if you want to create personal branding with the goal of becoming the 'go-to' realtor in your area. You're able to separate yourself from the pack by sharing unique content, and what makes you unique and different from other realtors.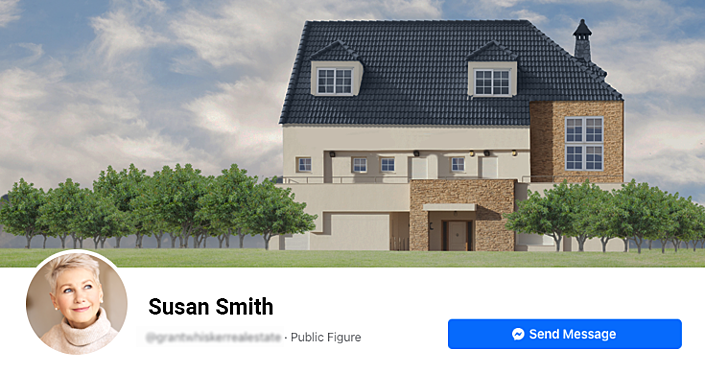 Public figures' pages work much like business pages - they both can show products or services. The difference here? A business page shows customers where to buy products, whereas a public figure's page features content that showcases your expertise and personality.
How to Create, Optimize, and Protect Your Facebook Business Page
Your Facebook Business Page has a lot of features and benefits that are not available to personal profiles. Features available include analytics, access to run Facebook ads, and post scheduling.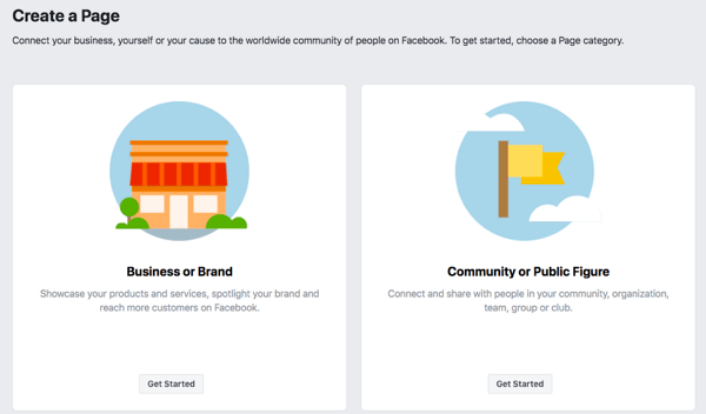 Here's how to ensure you set up your page for success.
Step 1: Adding a Profile Photo
Your profile photo can be any number of things. A professional headshot if you're the face of your business, or maybe one that represents a service you provide? However, as a real estate agent, we recommend a professional headshot, similar as you would for a business card or other public realtor profile photo.
Keep the composition simple and easily recognizable. Ideally, your photo should be 180 x 180 pixels in size (roughly 150KB). You can use free image editing tools like Canva or GIMP 2 to help with sizing it properly before uploading it onto Facebook from your desktop computer.
Once your profile image is ready, simply go to your Facebook page and click on Add a Picture.
Step 2: Adding a Cover Image
Facebook cover photos are more than just a pretty picture - they can also give your audience an idea of what to expect from you. Let's first cover the basics.
To ensure great quality, it's important to optimize your cover image for various screen sizes and device types. For desktop computers, your image should be 820 x 312 pixels, and for mobile devices (smartphones and tablets) it needs to be 640 x 360 pixels in size. Save your image as a PNG file.
If you're using a video for your cover image, keep the video short and to the point. The ideal size for a video is the same as a desktop image, 820 x 312 pixels. Plan on no sound, and people's attention span being short, so keep your video between 20 - 30 seconds long.
Only use images and videos that you have commercial rights to. Don't ever just grab an image from another website or that you've randomly found online. It's best to use original photos and videos you've produced yourself. Or licensed photos or videos from sites like Shutterstock, or sites that provide A Creative Commons license, which does not require attribution.
Image and video ideas to use: The inside or outside of the ideal type of home you sell or help your clients sell, with you in the image/video. The key is to match the image with your ideal clientele, so they say to themselves "that's like my home", or "that's the kind of home I want to buy."
Use colors that match your brand, brokerage firm colors, and other marketing materials you use for consistency.
Call-to-Action (CTA)
No Facebook Business or Public Figure page is complete without a Call-to-Action. You got someone to your page. Now, what do you want them to do? Keep in mind that your CTA should have an associated value you provide to the person on your page. For example, you could have a CTA for a 'Free Consultation" on buying/selling a home? A newsletter sign-up for home buying/selling tips, etc.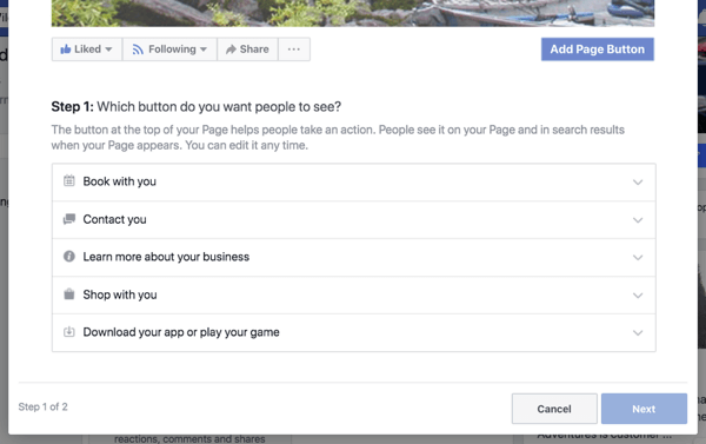 Here is how to add a call-to-action on your page:
Under the right corner of the cover image, click 'Add a Button.'
Pic the button type that is most appropriate for your CTA offer.
At the least, have a CTA for people to contact you, or to learn more.
Page Description
Your page's description should be concise, yet informative. Give potential followers a brief overview of what your page is all about, so they know why it's worth their time to stick around and follow you! This is also what people will see in search results, so you'll want to include things that people might be searching. And keep in mind that you are limited to a max of 155 characters.
Facebook Page URL
Choose a custom Facebook URL for your page that is easy to remember and that makes it easy for people to find and follow you. It should match up to the image of what your business is about, e.g., professional, fun-loving, or anything else!
Facebook Page Preview
When you hover over someone's Facebook page, it displays a preview of the page to help you decide whether to click through to the page or not. It's important to make sure the details seen here make a good impression and entice your ideal clients to click through to your page.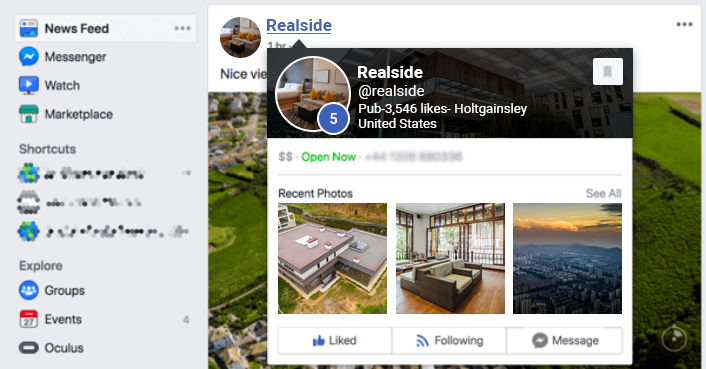 Here is what you want to make sure you have done well on your page for a good page preview:
Your 'About' tab is complete, being sure to include your summary and your website.
You have a CTA and options for people to message and reach out to you.
You have been asking your happy clients to leave a review on your Facebook page. (Yep, that's visible here!)
You have been posting helpful content and quality images to your page regularly.
Pro Tip: Utilize your Facebook insights analytics to see how your page is performing.
Leveraging Facebook Groups
One of the best ways to stand out and build a positive reputation and personal brand is by leveraging Facebook Groups. You can join relevant groups or even start your own and activity engage in groups. The key here, however, is to not be salesy! Instead of following the mantra "always be selling", follow the mantra, "always be helping". This builds trust, shows your expertise, and wins new clients.
Starting Your Own Facebook Group
A Facebook Group is an online group of people who share a common interest, and there are over 300 million groups on the platform. Groups have one or more admin moderators who run the activity in that group, with everyone else participating by posting comments or images to the wall as well as liking posts from other members of their community.
Starting a Facebook Group is a great way to help establish yourself as a thought leader and become the group's trusted go-to expert. When people post their own challenges and ask for advice, it's your chance to shine!
Focus on providing value and help. Create an open dialogue. Ask questions, provide content that educates members of the group. This will keep them coming back to read your posts in their News Feed.
Don't ever directly ask people in your group if they want you to be their realtor. The point is to provide value and build trust. Leads and customers will come as a natural bi-product of you building relationships of trust based on the value you're willing to provide for free.
Keeping up with a group can be a lot of work and is time-consuming. Think of ideas on what value you can prompt the member of your group to share freely as well. If you provide an environment where your target customers can also help each other, this will not only make your group more valuable and helpful, but it will also free you up from always having to be the one sharing tips and providing help.
Some ideas of what to share and post in your Facebook group to get engagement include:
Share posts about real estate news in your area and what it means for the market.
Share posts of questions people are asking about the local area.
Tips and best practices on how to prepare their home to sale.
Tips on how to find the best home they're looking for.
Tips on how to approach making an offer on a home.
Tips on what to consider when receiving offers when selling a home.
When posting a question, only ask one question per post.
Prompt members to post questions or ideas with the hope that other group members will answer them too.
Post videos of tips on how to be a successful home buyer/seller.
Post helpful infographics, photos, videos or links to relevant articles, news, and resources. You can even post links to relevant or helpful content on your website. But don't post homes for sale. This isn't the place for that.
Run surveys to find out what your group wants to learn about, or what they would like help with, or what they would pick/choose/do in each situation.
Steps for creating a Facebook Group.
To create a group with your Page as the admin:
Switch to your business page profile by clicking on the top right of Facebook and selecting Edit Settings > General, then entering in some information about this account if you haven't already.
From News Feed click Groups
Click Create New Group
Fill out sections for creating a new group
Click Save
Select Public or Private
Choose who can post
Add members
+ Share
Steps to Create a Facebook Group
When you create a group, your Facebook page will be the main admin of the group. If you choose, you can later add your personal profile to be an admin as well.

To create an official group on Facebook, start by selecting the Create Group option from your business page.
Enter a name for your group, and an optional description. If you want to include any tags with the group, enter them into this box as well.
From there you can also add a personal profile to be the admin of your new group and link them together if desired.
After that get started by adding all necessary information on what your group's purpose and focus is. Decide which privacy settings will work best for it as well!
Upload a cover photo that gives potential members an idea of what the group is about.

The cover photo should be 828 x 315 pixels.

Click on "create". Facebook will then ask you if you want all the members in your personal account or page to be automatically added to the group.
Creating a "Social Learning" Facebook Group
Facebook has added a new feature that allows you to create a "social learning" Facebook Group. Social Learning Groups are similar to regular Facebook Groups in the sense that they allow people with shared interests and goals to interact as one community group. And it gives the admin some additional features aimed at providing social learning in an organized way. Facebook's Help tells of some of the benefits of a social learning group, as follows:
"A social learning group is like a regular group except:
Admins can organize posts into units and change the order in which they appear.
Group members can click I'm done to let the admin know they've interacted with the unit.
Admins can view group insights and see details on unit and post-completion. "
To create a social learning group:
Follow all the normal steps to create a group, as outlined in the previous section. Then:
Edit your group type by going to the More button and select "Edit Group Settings". From the four Group Types, select "Social Learning".
Once you've changed to a social learning group, you will want to select a "Landing Tab" which will determine how content is organized and seen by group members.
The two landing tab types are, Units, and Discussions.
By selecting Unit, you will have the most control over how posts in your group are organized and the order they are displayed. You can create Units for any topic you might like, (e.g., home selling tips, home buying tips, etc.) Don't worry if you don't organize your Units perfectly, you can reorganize them at any time.
Selecting Discussion as your Landing Tab is similar to how a regular Facebook Group organizes posts, letting Facebook decide the order, which is typically in chronological order.
Similar to selecting a custom URL for a business page, you are also able to select a custom URL for your Facebook Group.